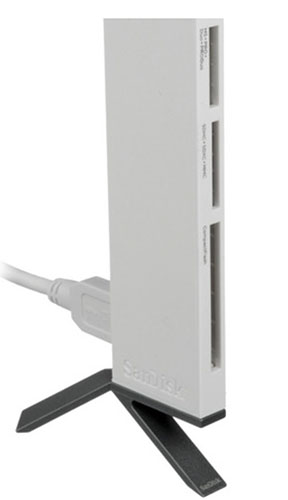 Today's post was supposed to be about photographing the World Women's Team Squash Championships at Niagara on the Lake, about 130k from Toronto. I had gone there specifically to see the all glass show court which is the same one that will be used in next years PanAm Games in Toronto and also made a side trip to the Welland Canoe course where the canoe sprints would take place.
So this evening I popped a brand new 32GB Sandisk Extreme Pro card into my also brand new Sandisk Imagemate USB3 card reader. The card reader flashed for a few seconds but no card appeared on the computer desktop. Tried again – same result. Tried my Lexard card reader, nothing, not even a flicker of life from the card. I put the card back in the camera – it's unreadable. After a quick Google Search I discovered a potential problem, bent pins in the Sandisk Imagemate reader and there it was, one of the end pins bent in.
This is a common problem with this reader as evidenced by the number of pages dedicated to this on the internet. The design of this card reader is, quite frankly, appalling. The card only goes into the slot a very short way, therefore it encounters the pins almost immediately and it is almost impossible to insert the card squarely, result, bent pins. What's worse is that the bent pins corrupt the card rendering it totally useless. It now won't mount onto the desktop so I can't even run any data recovery software to try and save the images. What a wasted day!
The card now can't be read or formatted by the camera so it's going to have to be replaced – I'll let you know how that goes. As for the card reader itself, I have only one piece of advise – DON'T BUY THE SANDISK IMAGEMATE ALL-IN-ONE USB 3.0 CARD READER
If you need a new card reader I highly recommend the Lexar Professional USB 3.0 dual slot reader, a much better reader all around.